we have reached the size to be able to serve our partners globally, with the highest possible professional standards, while not being bound by the inflexible processes of the industry as SMEs.
many global companies have chosen MagiCom's services to meet their IT challenges.
Without exception, we got back the feedback that after many previous services, they finally really got something different than usual. Save a lot of time and money, choose the perfect solution first!
We don't believe in template solutions,
we offer unique solutions for each of our partners for the best possible result. If you choose us, you can be sure that you will make a good decision and you will not only have another customer for us, but we will consider you as a long-term partner and help you achieve your IT goals.
your networks will be in the best hands, whether wired or wireless - be it design, construction or even operation.
6 fontos indok amiért érdemes a MagiCom szolgáltatásait választania
1. Folyamatos tapasztalatcsere
Országos szakmai fórum vezetésében való részvétellel teremtjük meg.
2. Rugalmas árazási modell:
TME alapú
Idő alapú
Projekt alapú
Eszköz alapú
3. Sokévnyi Globális tapasztalat:
24/7 hálózat felügyelet és távoli hibakezelés a teljes EMEA régió területén.
nagyvállalati hálózati tervezés & kivitelezés (10+ év)
IT hálózati infrastruktúra tervezése/ kiépítése / üzemeltetése és biztonsági felülvizsgálata mérnökeink által.
IT hálózat integráció - projekt menedzsment (5+ év)
Nemzetközi nagyvállalati környezetben nyújtott program és projekt menedzsment szolgáltatás
szerver üzemeltetés és DOCC (3+ év)
Magasan képzett, okleveles mérnökeink ellátják a szerverekkel kapcsolatos üzemeltetési feladatokat.
Onsite projektek EMEA régióban (10+ év)
Onsite infrastruktúra feladatok és IT rendszerek felmérése személyes jelenléttel
4. Partnerként tekintünk Önre és vállalatára:
Figyelembe vesszük egyedi igényeit, az a célunk, hogy a lehető legjobb megoldás szülessen.
5. Kiemelkedő szakmai tudás:
Nem csak dolgozunk benne, hanem tanítjuk is: Számos magasan képzett szakember tanult nálunk és fejlődött a MagiComnál, 3 éve pedig Hálózati Informatikus képzésünk is elérhető külső tanulók számára.
6. Folyamatos fejlődés és fejlesztés
Minden kollégánkat folyamatosan képezzük, és mindennapjainkban elvárásként jelenik meg a fejlődésközpontú szemlélet.
IT biztonság tekintetében országos színvonalú szakmai fórum szervezésével teremtjük meg a legmagasabb szakmai közeget, biztosítva a legfrissebb tudás elérhetőségét.
Belső irodánkban 26-an dolgozunk azon, hogy Ügyfeleink és külső kollégáink számára minden folyamat zökkenőmentesen megvalósuljon.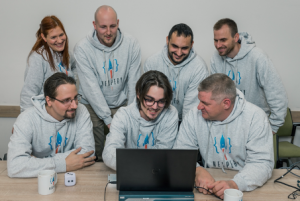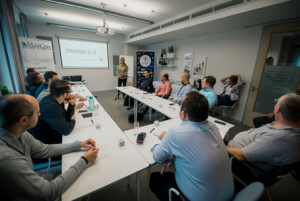 Izgalmas rendezvényeket szervezünk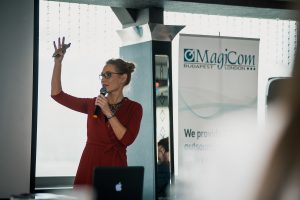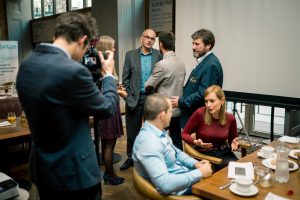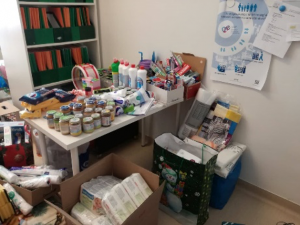 és mindeközben egy csapatot építünk
In 2012, we were awarded the honorary title of "Family-Friendly Workplace" announced by the government. Among other things, we support our colleagues with flexible and home-based work. We organize several events every year where our colleagues can take part with their families, we usually get together almost 300 people on the family day.
2016 was an extremely important year for us; we won also the title of the Best Company in Hungary in the category of developing organizational and individual skills. Such companies were awarded by IIP Hungary and the British Chamber of Commerce in Hungary that set a good example to other players in the economy with remarkable organizational practices.
We have been an Investors in People accredited organization since 2007. With this, we can play as a role model for the operators of the Hungarian economy, as a company that is not satisfied with following of the trends, but also "does" them.